The Complete App
Retargeting Guide
App retargeting or mobile retargeting is a marketing strategy for app publishers to continue engaging with app users post-install. It allows developers to continue engaging users all along the funnel, turning new installers and lapsed payers into repeat converters. Users are shown personalized ads to boost positive in-app behavior that leads to higher user retention and conversions.
Retargeting picks up where user acquisition (UA) leaves off. Between 70% and 80% of users stop using a given app day 1 after install. By focusing on how to retain these users and maximize their LTV potential through retargeting campaigns, app marketers can reduce this statistic and keep their user base engaged and converting in the app.
Remarketing encompasses all efforts to bring a user back to an app, webpage or product. It's not specific to mobile apps, and can include anything from email and push notifications to influencer marketing. Retargeting is a strategy within the larger idea of remarketing that uses real-time bidding to serve personalized ads to customers. The ads encourage them to return to a webpage or app and complete an action. Even more specifically, app retargeting targets only app users to grow an app's user base and increase revenue.
App retargeting targets users who have previously interacted with the app. Users are shown personalized ads in other apps, and encouraged to return to the app to complete an action such as continue playing or finish their purchase. For example, the hypothetical gaming app Diamond Dusters is running a retargeting campaign. They want to purchase inventory, or ad space, from the app Solve This Puzzle. The developer of Diamond Dusters has analyzed the results of previous campaigns and has determined that Solve This Puzzle will yield a high click-through rate (CTR). Through the real-time bidding (RTB) process, users who have downloaded the app Diamond Dusters will see a personalized ad tailored to their specific user behavior in Solve this Puzzle. Ideally, they will click on this ad and return to Diamond Dusters to continue whatever user behavior was encouraged in the ad.
This is a pretty basic description. App retargeting strategies will vary greatly depending on the app's vertical, audience size and more. By analyzing the entire app audience, user behavior, and other factors developers can find out what's the best strategy for their users to bring the highest ROI.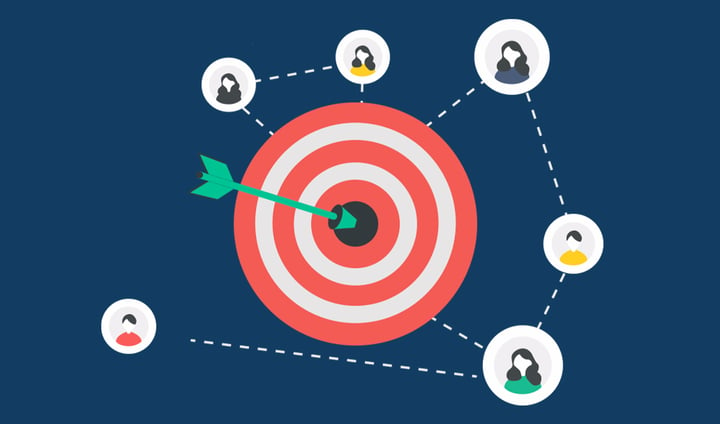 As mentioned, the above example is a simple one. There are a number of factors that go into determining the best strategies and focal points for retargeting campaigns. It's important to analyze audience size, existing audience engagement and trends, app use time, and creatives.
Audience segmentation is a key component to successful app retargeting. By dividing users by behavior, interest, and/or in-app activity, marketers can tailor their strategies to improve the relevance of the campaign. For example, our developer friends at Diamond Dusters have determined that they have a group of users who used to make regular or semi-regular in-app purchases, but they stop making purchases after around 7 days and are opening the app less and less frequently. Armed with this knowledge, the developers can create an audience segment based on this pattern. They can send tailor-made ads to this audience segment to encourage them to return to the app and resume their previous activity. By targeting lapsed payers specifically, the developers can also measure incrementality to determine just how much of an impact their retargeting campaigns made. But we're getting ahead of ourselves. We'll get into measurement specifics later.
Much like for audience segments, it's important to find out the optimal timing and frequency of campaigns. By analyzing user engagement data, marketers can see when users are most likely to stay active or stop being active in the app. For Diamond Dusters, the developers saw that users stopped spending in the app after 7 days. They also found that users who made a purchase day 1 after install were more likely to continue making purchases and become loyal converters. With this information, they created a new audience segment of "new installers" to show personalized ads to these users. The key here is to find the right amount of time between ads to both avoid ad fatigue and to keep the message top-of-mind. It's essential to A/B test and optimize campaigns based on results to find the sweet spot for optimal user engagement.
Quality creatives are an essential part of any successful retargeting campaign. Where many app marketers get hung up is how they differ from UA creatives. It may sound obvious, but UA and retargeting creatives have different goals: one wants to trigger an install, the other a re-open or conversion in an app that's already installed. Beyond just differentiating creatives by end goal, it's important to understand target audience and user motivations. Within the same game, Diamond Dusters, the lapsed payers audience segment and the new installers audience segment will have very different creatives. New installers may see an ad that just says "Play now!" while lapsed payers might see one that says "Your diamonds miss you!"
Deep linking is also an essential part of good creatives. If your users cannot click through to the app, it's likely that they won't convert. Deep linking improves the user experience by taking them directly to the app, rather than having them open it on their own or go through a multi-step process. It increases the likelihood of user engagement, improves the bounce rate and increases app session length. It also allows app marketers to track user behavior and conversion data more clearly, making optimizations easier.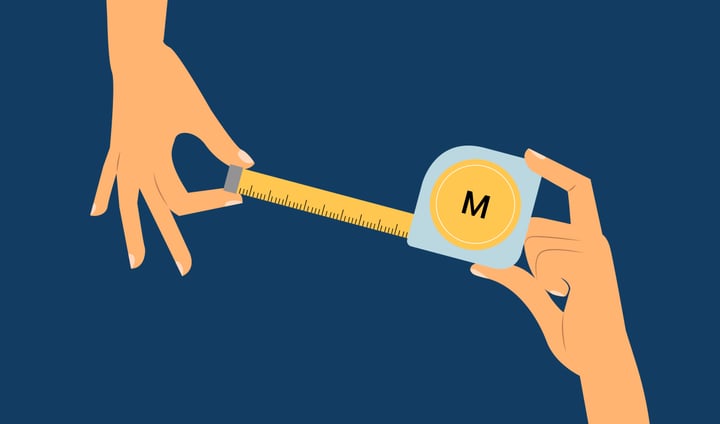 When running app retargeting, it's essential to continuously test and learn to determine if the campaign is having the desired effect or not. A/B testing different creative and retargeting strategies, reviewing audience engagement data, and experimenting with the timing and frequency of ads are constant processes that require pretty regular monitoring.
One way to ensure that campaigns are running on up-to-date information is to enable postbacks or share organic in-app data with your retargeting partner. This includes all in-app traffic and organic data happening in the app. The reason most app retargeting partners prefer this approach is because it allows for the creation of dynamic cohorts over static cohorts. Dynamic cohorts are audience segments that can be updated in real time, whereas static cohorts are just that, static. They are lists of users shared manually by the app marketer with the retargeting partner, but they are often out of date and unreliable. On the other hand, dynamic cohorts are audience lists that update in real time. Campaigns can be optimized for user behavior instantly, yielding more effective results, and higher efficiency.
Finally, how does an app marketer know how well their campaign has performed? Measurement possibilities are defined by app vertical, the type of campaign and its goals. Are you looking to find out how much money you got back from what you spent? Do you want to know how much revenue was generated? Are you looking for increased user engagement? It's essential for app marketers to answer these questions before launching a campaign. After deciding on the audience and the desired actions (app opens, purchases, etc.), knowing which KPIs to optimize towards will be clearer. For now, here are the two most common ones.
Attributed return on ad spend or ROAS measures the success of a retargeting campaign by comparing the amount of money spent to the amount generated. It offers an understanding of campaign success in the short term. If we go back to the example of Diamond Dusters, attributed ROAS would be a good KPI for a campaign targeting new installers or active payers. The goal here is to start them on their user journey right away, or keep them actively spending in the app before they become lapsed payers. Attributed ROAS will give a clear sense of whether or not the investment made has offered sufficient returns.
An uplift test is a statistical method used to measure the incremental impact of retargeting efforts on user behavior and revenue. There are a number of different methods out there, but essentially the test compares the behavior and revenue generated by a control group (users who are not retargeted) to a treatment group (users who are retargeted). The difference between the two groups is used to estimate the uplift, or incremental impact, of retargeting efforts on revenue and user behavior. The results can determine whether or not campaigns have been effective over time, and can be used to optimize future retargeting efforts. In the case of Diamond Dusters, the payers and active users segment would be the best candidates for an uplift test. As these users have made in-app purchases in the past, it's possible to compare the behavior of the test group to that of the control group before and after being exposed to retargeting campaigns. It will give the app developers a clear sense of whether or not their campaigns have had the desired effect on the audience.
On the whole, any app with a strong need to retain users should be running retargeting. There are some companies who run campaigns in-house and have the infrastructure needed to maintain it. However, many apps just don't have the time or resources to dedicate to such a complex structure. Working with a retargeting platform can free up bandwidth within your team and offer insights most marketers just can't access on their own. There's a wide variety of retargeting platforms out there, from self-serve to fully managed, and what you choose will be dependent on your app's needs.
Retargeting is an essential tool for app marketers. It protects UA investments and encourages in-app actions through personalized advertising. While it can boost in-app actions, it cannot create them. If part of the app audience has downloaded the app, but hasn't converted within a week or two weeks, it's unlikely that trying to make them become repeat purchasers through retargeting will be successful. It's a much better use of time and budget to retarget users who have completed or are completing in-app actions that marketers want to encourage.
It's important to also figure out how sophisticated or basic the app's needs are. There are a myriad of options for marketers from self-serve DSPs to fully managed DSP services that include customer support, supplemental analyses, and even pre-launch analysis. It will only become clear which of these options are best after a thorough audit of your app's audience and pain points.
From a managed DSP perspective, it's been proven that app retargeting works to increase ROI across the board. Take a look at some of our case studies to find out how it works for other apps across all verticals.
Dating, subscription and social networking: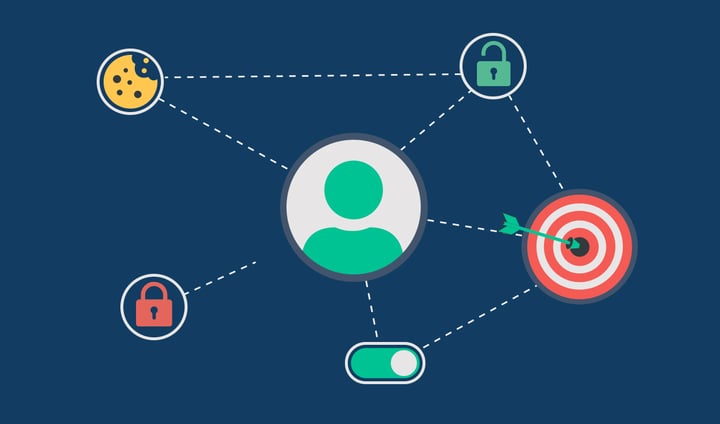 As privacy consent mechanisms change and evolve, so will the future of app retargeting. The single most important thing app marketers can do is stay informed and ahead of the curve. Speaking with retargeting and UA partners about their plans for the future is essential. Apple's ATT framework and Google's Privacy Sandbox have changed and will change the app marketing landscape, and if app developers want to keep up it's important they stay involved.
In contrast to Apple, Google has released quite a lot of information around its planned changes to its privacy consent mechanisms. They are already working with app industry leaders to develop a solution that will be both privacy-forward and developer-friendly, meaning that while retargeting may change, it will not be an impossibility on Android. Learn more about the current framework of the Privacy Sandbox here and how app marketers can prepare.
CONSULT OUR APP RETARGETING EXPERTS
Activate, Upsell and Retain your audience